25th edition ISN WCN 2019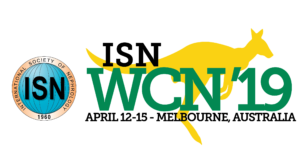 Welcome to WCN 2019 in Melbourne (Australia) April 12-15, 2019
We are excited to partner with the Asian Pacific Society of Nephrology and the Australian New Zealand Society of Nephrology for 25th edition of the ISN World Congress of Nephrology (WCN), taking place in the vibrant city of Melbourne, Australia from April 12 to 15, 2019.
This congress puts the spotlight on glomerulonephritis, and for the first time, integrated end-stage kidney disease, and other renal problems relevant to patients worldwide and those living in Asia Pacific.
Hand-on courses, taking place before the scientific program begins, promise prized access to international medical expertise in renal treatment, research and care, from bench to bedside.
Our mission is to maintain sustainable kidney health on a global scale through education and training. We are proud to offer a genuinely enriching and professional exchange of knowledge with world-renowned nephrologists.
This is a unique chance to connect with the nephrology community in a compact setting and interact with colleagues.
Some unique innovative features will strengthen this WCN. We have carefully considered the evaluations from delegates of previous congresses and have already made two major advances which will be followed by many others.  We have decided to move to a paperless Congress. We will pay special attention to include all information found previously in print proceedings on the various communication tools such as the Congress App, the Congress website, signage throughout the Congress Centre etc.
Another innovation will be much appreciated by delegates interested in attending WCN Courses; these will now occur pre-congress to avoid conflict with the exciting sessions of the main WCN Scientific Program.
See you all in Melbourne!
ISN President David Harris
Link to web-site of the 25th edition ISN WCN 2019 in Melbourne (Australia) www.isnwcn2019.org
Important dates
July 24, 2018 – Registration opens
July 24, 2018 – Call for abstracts opens
12, 2018 – Abstract submission deadline
21, 2019 – Early registration deadline